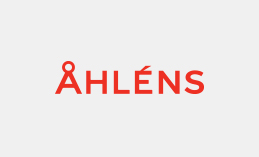 Åhléns is part of Axstores, which uses xTrade as the Group's integration hub. xTrade ties together shops, department stores and suppliers with the central enterprise systems.
Axstores with Åhléns is Sweden's leading retail company in many areas
With an impressive SEK 7.5 million turnover and a continuing interest in conquering new territory, Axstore's future looks bright. In the past few years changes in the department store chain.have been manifold and major. With its focus on reaching out to a fashion conscious public, the Group has invested heavily in such areas as media, fashion, beauty and décor. These investments affect not only sales figures, but also mean great changes in Åhléns own IT systems. For a company with such a large assortment and which cooperates with a large number of suppliers, it is obviously very important to stay on top of every part of the system labyrinth.
Critical information exchange
The Axstores Group currently consists of 79 Åhléns department stores, 90 KICKS shops, 20 home stores, of which 17 are located in Norway, 14 Lagerhaus stores and one distribution center. The number of units in each category is steadily increasing. For a department store chain as large as Axstores, smooth communication, both internally and externally, is everything. Like most companies, Axstores is completely dependent on a well-functioning IT system. Important transfers must arrive in time. "It is extremely important for us that specific information is received in time, and correctly. Information related to our stock, to ensure proper re-stocking of goods at our department stores and shops, is a must", says Conny Nordberg, IT Manager at Åhléns. "In practice, this means that our suppliers must receive their orders as quickly as possible. When goods arrive at the sales units, electronic tags must be present, but it is also crucial that the file exchanges are timely and that no information is lost. A well-functioning integration platform determines how well the enterprise itself will function."
Smoother flow
Axstores has finally managed to achieve good control of its file communications, according to Conny Nordberg. A few years ago, the company used an FTP exchange for sending and receiving files between units and the central system. This was a costly, cumbersome and unreliable solution. New systems and partners were added on a point-to-point basis. The FTP exchange did not deliver the expected efficiency, in fact, the solution slowed down operations rather than making them more efficient. Quite simply, Axstores realized that the concept had to be changed in favor of an integration solution that could consolidate and simplify the administration of messages between warehouses, shops and the central system, rather than complicate it.
Axstores decided to purchase an integration platform. After careful consideration, they selected the xTrade Business Communications Suite. The system was much simpler than ones used by their competitors, while at the same time offering all conceivable communications protocols and file conversion formats.
In November 2003 the system was installed at Åhléns, with the aim of making all file communication go via the platform and of working as a support system for smoother processes and communications. The system was upgraded and expanded when Oracle RIB was implemented in 2015.